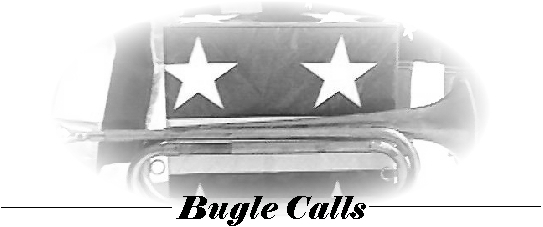 | | |
| --- | --- |
| First Call | Sound as a warning that personnel will prepare to assemble for a formation. |
| Reveille | Signals the troops to awaken for morning roll call. Used to accompany the raising of the National Colors. |
| To The Colors | To the Color is a bugle call to render honors to the nation. It is used when no band is available to render honors, or in ceremonies requiring honors to the nation more than once. To the Color commands all the same courtesies as the National Anthem. |
| Mess Call | Signals mealtime. |
| Adjutants Call | Signals that the adjutant is about to form the guard, battalion, or brigade. The bugler plays the bugle part of the call. |
| Mail Call | Signals personnel to assemble for the distribution of mail. |
| Officers Call | Signals all officers to assemble at a designated place. |
| Retreat | Signals the end of the official day. |
| Tattoo | Signals that all light in squad rooms be extinguished and that all loud talking and other disturbances be discontinued within 15 minutes. |
| Taps | Signals that unauthorized lights are to be extinguished. This is the last call of the day. The call is also sounded at the completion of a military funeral ceremony. |
The 24-note melancholy bugle call known as "taps" is thought to be a revision of a French bugle signal, called "tattoo," that notified soldiers to cease an evening's drinking and return to their garrisons. It was sounded an hour before the final bugle call to end the day by extinguishing fires and lights. The last five measures of the tattoo resemble taps.

The word "taps" is an alteration of the obsolete word "taptoo," derived from the Dutch "taptoe." Taptoe was the command - "Tap toe!" - to shut ("toe to") the "tap" of a keg.
The revision that gave us present-day taps was made during America's Civil War by Union Gen. Daniel Adams Butterfield, heading a brigade camped at Harrison Landing, Va., near Richmond. Up to that time, the U.S. Army's infantry call to end the day was the French final call, "L'Extinction des feux." Gen. Butterfield decided the "lights out" music was too formal to signal the day's end. One day in July, 1862 he recalled the tattoo music and hummed a version of it to an aide, who wrote it down in music. Butterfield then asked the brigade bugler, Oliver W. Norton, to play the notes and, after listening, lengthened and shortened them while keeping his original melody.
He ordered Norton to play this new call at the end of each day thereafter, instead of the regulation call. The music was heard and appreciated by other brigades, who asked for copies and adopted this bugle call. It was even adopted by Confederate buglers.

For a complete list of bugle calls visit ARMY BANDS ONLINE.